Lamarabilia ...
is our name for vintage and collectible camelid memorabilia!

Steiff stuffed toy
And these pages are our camelidacombes: a maze of tunnels filled with all things camelid ~ to rival catacombes (a maze of tunnels filled with all things feline?)...

Vintage Silver Brooch
They include camelid curiosities we have collected over the past decade and beyond such as..
.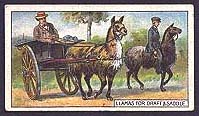 Old cigarette card
Alpacas from Afghanistan and Japan
Llamas from Liberia
Vicuna from Vietnam (well almost)
not to mention...
Llamas and their connection with American gasoline
Llamas and Singer Sewing Machines...
Llamas with horses tails...
Stuffed llamas of the cuddly kind
The smallest llama in the world? Probably not but very cute nevertheless

.

..

Envelope produced by (now defunct) Braniff Airways
...and a feast of other items dating from the 1700's to the 1950's (with just a few that have taken our fancy from more modern times).

These pages also answer questions that would be on your lips if only you knew to ask... for example:
"Who is Sylvan I. Stroock?" and "Who is Benjamin Whitehead Gee?"

Stamp from the Gulf States
We do have duplicates of a few items on these pages and some of these are for sale. We are also interested in swapping for other Lamarabilia. Look for the *** and do email for more details if of interest.
There are lots of gaps in our knowledge of many of the items in our Collection and if you can fill in any of those gaps we would love to hear from you.

Vintage Lead Toy
Incidentally... we spell Lamarabilia with one L to add to the confusion we inspire.

Lama spelled with one L is the latin name covering the entire family of South American camelids (Llama, Alpaca, Guanaco, Vicuna) - but, to further the confusion, is not intended here to denote the two-legged variety from Tibet.

Coca-Cola Beanie Doll
Curiously though, we have found that the vast majority of vintage lamarabilia is based on the llama and very little relates to the alpaca, guanaco or vicuna...
Click on the links on the left to see lots more and to find treasures to swap or buy...